Chinese artist Hu Bing makes her mark on the Manhattan landmark Flatiron building this month. "Shattered Glass Sheer Transformation," her colorful installation of broken glass bottles molded into sculpture with resin and hung from the ceiling in stockings, occupies the Prow Art Space in the Flat Iron building from now until June 2nd.
The gallery is a recent addition to Manhattan's Flatiron district. Last May the mobile telephone network, Sprint, made the unlikely decision to turn their retail show room in Manhattan's Flatiron building into an art space. The Prow Art Space now occupies the north most corner of the historic building, a triangular fishbowl of an artspace that overlooks Madison Square Park. Cheryl McGinnis,who owns the gallery of the same name, curates the space.
Gwenyth Leech was the first artist to show at Prow, with a series of drawings on paper cups. For that show Leech was in the art space five days a week drawing on paper cups and adding to the installation throughout the course of its six month tenure, lending an interactive element to the public space.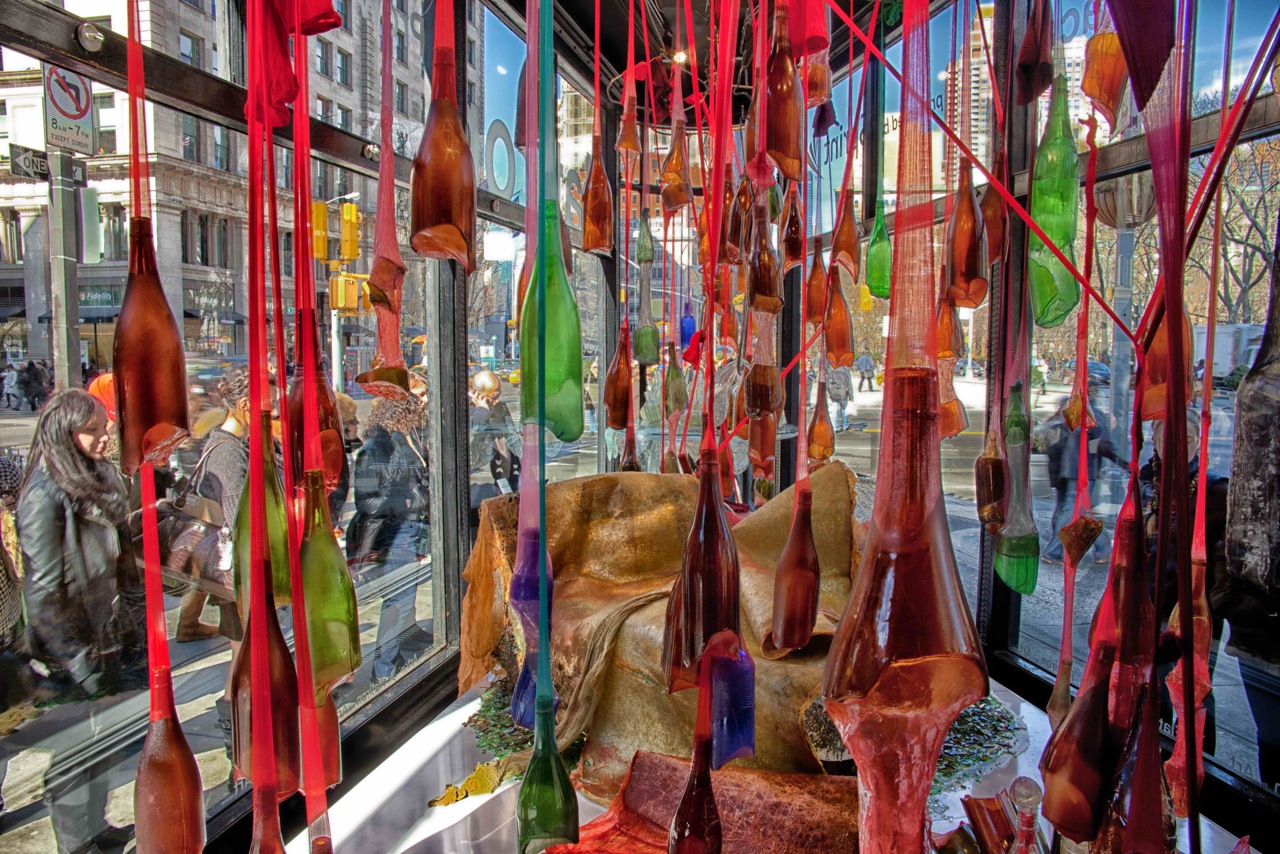 Bing is also often at the space, adding glass shards from recycled and found bottles she has broken. Her ethereal chamber of floating street debris, a harsh mix of broken glass bottles and crushed auto-glass molded into sculpture with resin and covered in stockings and cheese cloth, is deceptively inviting. Stockings and cheese cloth provide little reprieve from the sharpness of the piece, but aspects of the installation feel soft. Perhaps its the hand-made iron clothing hangers the stockings suspend from or the shattered auto glass table draped in dyed cheese cloth that give the space a homey feel.

No stranger to harsh environs, Bing grew up during the cultural revolution in China. Though she was able to pursue art professionally, receiving her BFA with honors in Fine Art at the Shanghai Teachers' University in China, she still felt China's severe censorship limited her art work. In the late 1980s she made the move to New York, ultimately pursuing an MFA from the State University of New York at Purchase. She completed the program in 1995.
Her installation "Shattered Debris, Sheer Transformation" harkens back 16 years ago to Bing's days in Bushwick, Brooklyn, when the area was still prone to heavy crime. She remembers the area being full of broken glass: bottles used as weapons and shattered car windshields from attempted auto-theft, car burglary, and accidents. Despite the neighborhood's brashness, Bing found a way to settle into the volatility. Her artwork reflects her perception of the world as a dangerous and precarious place and asks the viewer to interact with it and in a sense, get comfortable with the uncomfortable.
–Ruth Reader for Glass Quarterly